So excited to jump in mid challenge and join some of my favorite bloggers for the 10 Day You Challenge.
Do here's my 7 Wants (I didn't take me long!)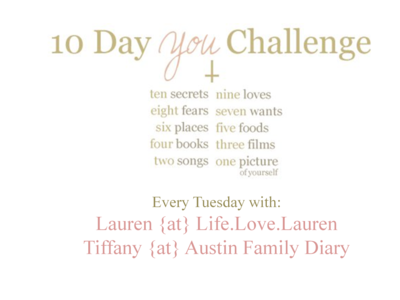 1. An IPhone. Mostly so I can have Instagram. I feel like still having a BlackBerry makes me part of a dying breed. Can I get a "You are not alone" from a fellow BB user? Anyone?....Anyone?
3. A Kitchen Redo. I really have what I like to call a kitchen"ette" It's so small Snooki would feel right at home. Not that she would know what to do in there.
4. A new hair do. I have had the same cut since I was 11. Save a few poorly executed attempts to get the Rachel bob. Last year I went from blonde to auburn and that helped. But now, I am getting the itch again. Also, I would like to learn how to do my hair in the first place!
5. Fall Weather. It's Sept. 4 Mother Nature. Cut the 90 degree temp crap now. I refuse to put up decorations outside and break a sweat. So I am holding off until there's a bite in the air. At this rate, I'll be the loser with a pumpkin on her doorstep instead of a snowman.
6. A Honeymoon. While we are at this "if I got everything I ever wanted" list, let's just talk about the fact that my husband and I never went on a honeymoon. My honeymoon consisted of starting my last year of college and planning my son's first birthday. ( Couldn't even call it a shotgun wedding when the shotgun part was there in person!) We are not "beachy" people. I always envisioned a week in a hunting cabin in the CO. mountains:
7. To win the lottery. DUH.