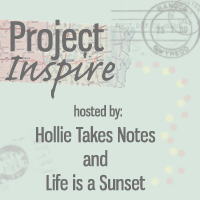 I am participating in Project Inspire Hosted by Hollie Takes Notes and Life Is A Sunset.
I stumbled upon it and it caught my attention because I love to make cards and love getting mail,
so it's a win win!
The rules are easy: Make or buy an inspirational card, mail it to your partner and get one in return!
I've been paired up with Hilary:
Go check her site out, she's got my dream house and decor choices, prrreettty much.
So here are some of the cards I've pinned since I've started making the for inspiration:
All, check out my "
Jenni Card Inspiration Board" on Pinterest
I'll show off the card I'm sending Hilary and the card she sends me later!