You know what the best thing about Saturdays is?
Not wearing a bra. Having no obligations whatsoever.
Today, I don't even have to leave the house if I don't want to!
So this morning I decided I wanted to share the wonderful things that being a blogger has done for m fashion sense.
Besides meeting new people and enhancing my need for Starbucks, blogging has turned me into someone who appreciates fashion.
I usually dressed in comfy sweat pants or jeans with and a hoodie sweatshirt. I wear tennis shoes and whatever jeans weren't wrinkled.
But thanks to reading and seeing all of the fashion and adorable outfits via bathroom pics of other bloggers, I actually wore something cute to our local high school's semi final play off game last night:
I even had jewelry on! Both of these pieces were found thanks to the bloggy world.
The necklace that I saw and knew immediately I had to have is from
See?? Isn't that much better than jeans and a hoodie?
But by no means is there anything wrong with jeans and a sweatshirt.
I LIVE by them.
But now, I am seeing jeans and comfy clothes in a new light.
Here's R2 and I at the game. You totally can't see my outfit but look how cute she R2 looks :)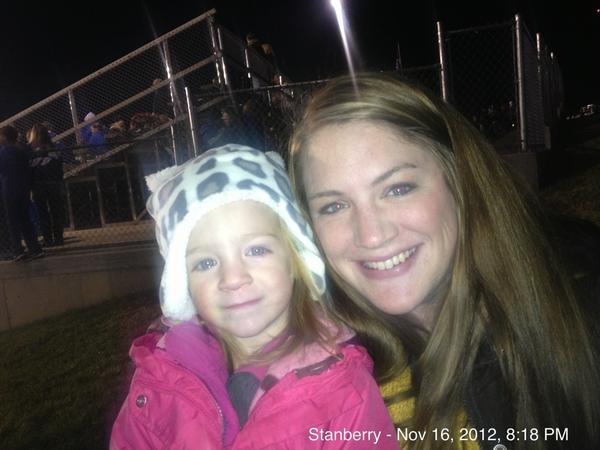 What's your favorite casual outfit? Leave some links to your fashion posts or Pinterest boards so I can get more inspirations! I need all the help I can get!