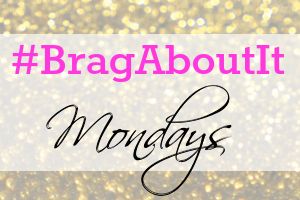 It's time for the first ever Brag About It Link Up!
I'll start and then you link you your #bragaboutit post, mkay?
It's going to be so much fun!
My brag today is that this year I've plan lots of handmade gifts for my friends and family.
I've only been crafting for 2 years. It was never something I did before and I am in love with everything crafty.
I love making cards and cutting felt for flowers is seriously therapeutic for me.
One thing I can always count on is that when I make something, it's always received with a little bit more enthusiasm. I think people really respond well to and feel good about a gift that is thoughtfully made just for them!
The really great thing about handmade cards is that I always have something on hand if I need a last minute birthday card or if something unexpected happens and you don't know what else to do but send a little encouragement via snail mail.
I wish I could tell you BEFORE hand what I have planned for Christmas gifts, but I think I may have a couple family members who read this and who don't want any spoilers (hi Grandma Terry and Caitlin :)
I know deep down you can think of something that makes you walk with a tad bit more confidence.
What's that one thought that makes your chin tilt up a little higher?
What physical trait makes you linger in the mirror a little longer?
Don't be afraid. You should be proud.
The brag about it post turned into a hashtag on twitter a few weeks ago with my girls Jess and Mallory and we had a thought.
Sometimes a girl just needs to brag.
There's no need to feel shy.
You're breastfeeding like a champ? #bragaboutit
You finished an important project at work with gusto? #bragaboutit
You reached a new follower milestone on your blog? #bragaboutit
You finished off a big bottle of Barefoot Mascato all by yourself? oh, wait that was just me. #bragaboutit
You didn't kill your husband for watching too much tv while you were hit the face with a plate of spaghettios? #bragaboutit
Confidence is the new panty hose, girls.
We are so excited about it, we hope you'll join us in #BragAboutIt!
Please grab the button code below to insert into your post, and get your posts ready!
Write about something or just scribble down a list of things that you feel proud about and come back to one of the blogs to add your link. Not only are we going to share fun stories, we'll also get to meet new friends!

And I know what you're thinking.
No one is going to think you're a snob for bragging about yourself. That's so last middle school teen drama. This is real life and we should be partners in building each other's confidence!
followers of the hosts, Jen, Jess, and Mallory and please interact with 1 or more of the bloggers that link up!
Not a problem! Comment on any of the hosts posts with your Brag so we can share for you!