I've got a treat for you today! On behalf of the awesome Bigs and Littles Blogging Network, I have had the pleasure of meeting up with Megan from Crafter Club. I'd love to introduce you to her and her awesome blog.
Megan and I will be sharing some things about each other on our blogs, including tips about blogging!
She's SUPER creative and so nice, so it's my honor to introduce her!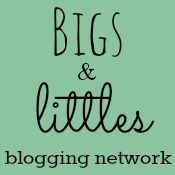 Hey
That's What She Read
readers, I am so excited to be here today!
Jen and I are bloggy friends thanks to the Bigs & Littles connection, and I have really enjoyed getting to know more about Jen and all her talents!
I began blogging back in 2010, and blog about all things crafty! With an occasional post about food, service, fashion, and more. I blog my blog and enjoy being able to share with others what I've made!
1.My name is: Megan Jorgensen
2.I was born in: American Fork, Utah but currently live in Idaho
3.The best part about my job: Being around people! I am a dental assistant by day, crafter by night, and ALWAYS a momma to "T" who is 10 months!
4.I am inspired by: Beautiful things of all nature. Colors, textures, people, places, etc.
5.My best kept secret is: Best kept. ;)
6.I collect: Shoes, bags, craft supplies, & picture frames.
7.I never leave the house without: My phone and wallet.
8.If I could live in any decade it would be: This one. But a slower and simpler 2013.
9.The person I would love to meet is: My grandma M. I hear she was pretty amazing!
10.If I could only wear one color it would be: Red, because it's my favorite.
11.On a Sunday afternoon I like to: Take a nap with my baby and hubby
12.If I were stranded on a desert island, one item I would take is: Well besides the obvious family answer, I would want clean drinking water and a pen and paper.
13.I love: My family, life, and being surrounded and doing creative things.
I hope you made it through all of that, and enjoyed getting to know me a little more.

Thanks Megan!
You can check out my "about me" facts on
Megan's blog
today too!