Today I am sharing a couple recipes that always remind me of my mom.
The first one is the ultimate comfort, kid friendly food that my mom made for my sister and I as kids.
I think the story goes that our baby sitter, Darlene, made this dish for us alot and Jessica and I begged my mom to make it for us so she got the recipe from her. I had not had it since childhood and one night my sister stayed overnight and made it for us. I closed my eyes on the first bite and Voila! I was 6 years old again! And not surprisingly, my kids loved it too!
Rice With Cheese
1
package - Pork sausage, browned and drained
3 cups - Prepared White

Rice
1 Can - Cream of Mushroom Soup

Mix all together into a 9x13 baking dish

Top with American

Cheese

Slices
Sprinkle generously with Mrs. Dash Seasoning
350 degrees until
cheese
is melted and bubbly
This next recipe is a staple at any and all of our family get togethers. They are usually called Magic Bars or 7 Layer Bars, but due to my sister being able to claim an entire pan to herself, they were officially christened "Brooke's Bars" in our family. (It's totally justified, because yes Brookie can put away a pan of treats but she's also a marathon runner. She's pretty much my idol).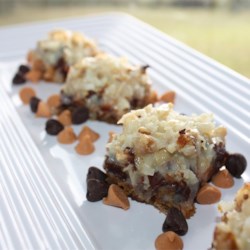 Ingredients
1-1/2 cups

of

graham cracker crumbs

(about 8 planks)

1/2 cup

(1 stick) of

butter

, melted

1 (14-ounce) can

sweetened condensed milk

1 cup

semisweet chocolate chips

1-1/3 cups

flaked coconut
Instructions
Preheat oven to 350 degrees F. In small bowl, combine graham cracker crumbs and butter; mix well. Press crumb mixture firmly on bottom of 13×9-inch baking pan. Pour condensed milk evenly over crumb mixture. Layer evenly with remaining ingredients; press down firmly.
Bake at 350 degrees F for 25 minutes or until lightly browned. Run a knife around the edge of the pan while still warm to loosen. Cool on a wire rack. Chill if desired to speed up firming. Cut into bars or diamonds. Store covered at room temperature or in the refrigerator.
So there are a couple recipes that remind me of my mom! Speaking of moms, don't forget to let your mom take over your blog on Friday in honor of Mother's Day! Brin at Bold Butter Baby and I are hosting a link up!