This weekend I am celebrating the nuptials of my BFF Steph
We sent her off the right away with Nighties for her Naughties at her bachlorette party a couple weeks ago and the email she just sent with our agenda for her wedding weekend REALLY got me excited!
What's even better is that the tri-feca will be complete when our beauty Morgan flies in from Washington to join us. This weekend will make our wedding circuit complete.
Bring on the mimosas, updo's and prayers not to fall down the steps on the way down the aisle.
That last one might just be me, which I will be praying double for.
I COULD just lay off the mimosas and champagne before the wedding to lessen my chances of falling on my face but where' the fun in that?
Here's what I need for the weekend to be a success:
1. Mini bottles of booze to fit in my clutch
2. A theme for an impromptu speech if the moment presents itself
3. Some of my kick ass dance moves from our high school prom days
4a. Only kidding! Kind of.
5. A happy bride, a fun wedding party and a dress I won't trip over.
If I do my part, Steph will be doing this by the time she says "I Do."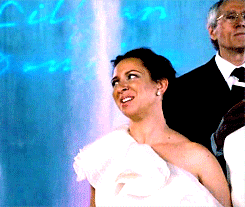 Anyhooters, guys, not to sound cliche, but this weekend is going to be epic.
Unless the spray tan doesn't go as planned. In which case, I'll be the oompa loopa at the cake table.