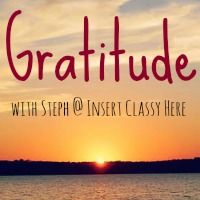 Here's a quick video list of things I am thankful for right now.
First in honor the host, I am thankful for Steph at Insert Classy! One, because we are sisters from another mister (wedding dress samesies!) and two because she introduced me to The American Authors last week and they've been on repeat ever since!
I am thankful for Candy Crush, like alot alot. But not as much as Frances
I am so thankful for Ashton's Kutcher's speech at the Teen Choice Awards this week.
I am also thankful for the little 5 year old boy who ran ahead of me at his school this morning because he was so excited to start his first day at kindergarten. I didn't even get to hug him. There was no times for tears!
Happy Hump day! Tonight is R2's first day of gymnastics so I am sure there will be fun pictures to post later!