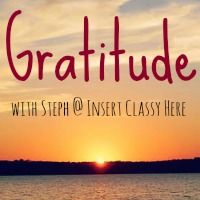 Thanks to Steph at Insert Classy Here, I remembered today what I am so grateful for. When I really stop to take the time to think about it, the list is so long and sometimes, in the every day jungle of day to day life, it's easy to forget all the things you have to be thankful for! And sometimes, it's the simple things!
Like how I am thankful for magazines. In the biggest way. My favorites?
Real Simple, Entertainment Weekly, People, Family Circle, O, Glamour & Marie Claire. I love the articles, the pictures, the samples, everything! I am so grateful for the hour I spend devouring the pages, it's so calming!
I am thankful for messes that are worth it. Making an impromptu art studio on their bedroom floor? No probs.
Or how about a mess out on the sidewalk? My favorite is that we have an overhang and the sidewalk art stays for weeks and week and makes me smile every time I walk out the door.
I am grateful for amazing movies that come from books. It doesn't happen often but when it does, it's magic. If you haven't gotten the chance, read The Great Gatsby and THEN watch the movie. The movie is such a fun, imaginative, over the top version of what you see in your mind when you read the book.
I am also thankful for moving nights with a good friend, who mixes the perfect M&M/Popcorn ratio. (It's a science, I tell you).
And, last but never least, I am thankful for this sweet, sweet baby Lucy.
I mean, would you just look at this face? How am I supposed to get anything done around here when I have this picture as my home screen on my phone? I am so grateful that I get to spend the entire weekend loving on her. I can't wait to let the Rs cuddle and play with her. It's life, full circle.
So that's all she wrote, folks.
Tonight is gymnastics with R2. I will try and snap a picture of her in her wee-o-tahhrd, as she calls it. Priceless!
What are you Grateful for?