Thanks to Jake and Holly for a fun link up!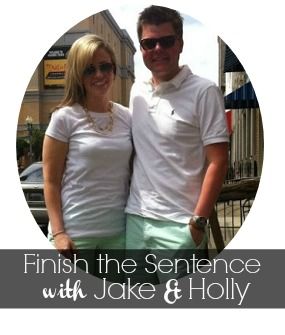 My happy place...on my couch with Scandal on Netflix, right after cuddling with my kids until the fall sleep on my feet, with a candle burning and a glass of cheap mascato, while snapchatting with these two cray crays.
Whatever happened to... Devon Sawa... don't be afraid to admit you kissed your stuffed animal and pretended you were Christina Ricci in Now and Then.
So what if I.... Use Tigi Rockaholic Dry Shampoo as if it's a shower in a spray can? That shit is gold.
E! needs a reality show about...
the conspiracy theories my mother and sisters come up with. We're pretty sure everyone is out to get us. We'd have a secret service Hummer, body
guards
and a panic room. Plus, we'd look like pale versions of the Kards.
My go-to fast food meal is... Spicy Chicken combo from Wendy's, hold the mayo, add ketchup. Forever and always.
You might not know that I...
once met Bob the Bachelor, twice, kind of. He was performing in his band (right?!) and my mom told him I was home watching the finale of his cast off, Meredith and he got on the phone with me so I could tell him which guy she picked! I went to his next show and we hugged. He was just as cute in person!
The hottest quarterback in the NFL is...Brady Quinn. Must find a Fat Head....
If I could... work from home while wearing Old Navy perfect tees all day, taste testing yogurt and socks, I'd be a happy girl.
My personality is awesome because... I don't judge. You have a crazy past, a weird habit or a funky toe? *shrugs her shoulders.
We all got our stories, folks.
Twerking is.... the best thing to have my 5 year do on snap chat. Seriously, add me and we will make your day!
I think it's super gross when... I think about boogers. Insta-gag. I can't even.
Someone needs to tell Miley Cyrus... that no one will ever look at a sledge hammer the same way again. We all thought construction workers were horned up before, watch out! Watching her lick that hammer makes me want to brush my teeth.