There's never been a question whether or not I love TV.
I was 4 and yelling at the dorks on Bozo the Clown who somehow managed to miss the bucket with the ping pong ball everytime. I still don't understand how it could be that hard!
(that's what she said).
Fast forward a couple years and I was following along with my mother's addiction: All My Children. An 8 year old who understands why a women is locked in a well for years and follow along in the complicated life of Tad and Dixie is a pretty cool kid if you ask me.
Can we please just take a minute and marvel at the awesomeness of this sparkling meme?
And don't even get me started on college. I'll be paying the student loans for years that mostly just allowed me to watch Sex And The City and One Tree Hill on DVD non stop while wearing head to toe Husker gear, compliments of the student union bookstore.
So here I am today, giddy with excitement that the Fall TV Season is upon us. Currently, I am scrambling to ingest the final episodes of Scandal.
Here are the shows I think will keep me on the couch this fall. (Still rocking my UNL hoodie, thank you very much!)
Starring Malin Akerman (who had me at Heartbreak Kid) and Marcia Gay Harden
Party girl Kate falls in love with a man who comes with a lot of baggage, including kids and 2 ex wives. She's also a bit of a drinker. Hilarity ensues.
And I really don't have to say much more than "Rebel Wilson has her own show"
3 roomates who've spent the last 13 years hanging out in their apartment are forced to go out and live the "night life". Lots of clothing gets ripped and we all feel a little more confident.
And then of course, I will be watching the old faithfuls: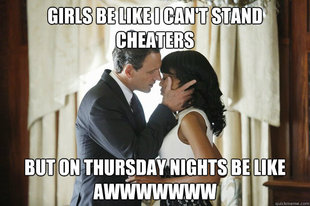 And the juggernaut of all shows for me:
People are all like, I don't like Country Music and I'm like, ummm have you seen Hayden?
So those are the beginning of my obsessions. Now when Girls becomes available on Netflix or I break down and pay for Hulu, I am sure there will be more to talk about!
What are you watching this fall?