It's time!
I am so excited for tomorrow!
I can't wait to read your "once upon a times" and "so this one time at band camp" stories!
Here's the link up button you'll want to put somewhere in your post, that way anyone reading your story can find MORE stories to read and know where to link up next time I do another That's What She Wrote Link Up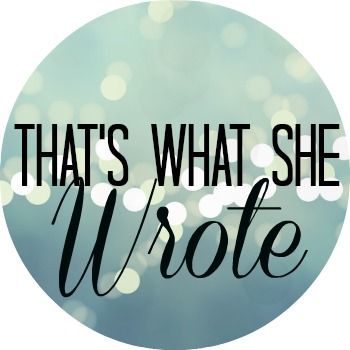 And because I want LOTS of people to link up, I 
thought I would share some fun, easy prompts for 
anyone who thinks they want to write a short story 
but aren't sure where to start! Pick a prompt and see where it takes your imagination! (these are just ideas so don't think you have to use them!)
1. You set up a blate with a girl you've known in the 
blog world for months and are so excited to meet 
her. When you open the door to the restaurant, you 
find out the "girl" is actually a tall, handsome gay 
man in his 20s. Write your weekend Shenanigans 
recap blog post.
2. You just started your new job. You walk in on your first day and your co-worker is your high school 
sweetheart who you haven't seen or heard from in 
years. (Only because he doesn't have a Facebook account so you couldn't stalk him and trust me, you 
tried). Write about your first lunch 
break with him.
3. You just won a trip for 4 to Greece. How did you 
win? Who will you take? What pictures did you bring
 back from your trip? What happened when you got
 to Greece and found out you forgot your traveling 
money?
4. (Inspired by Taylor) You have the worst morning in the world. Your clothes aren't clean, the smoke 
alarm is going off for some reason and you trip, 
stubbing your toe on the couch. Write a play by play 
in your dog's perspective. 
5. Your grandmother has passed. Write the letter she left for you. 
Okay now get to writing and we will see you and your majorly creative, inspirational and original short 
stories back here tomorrow!!!