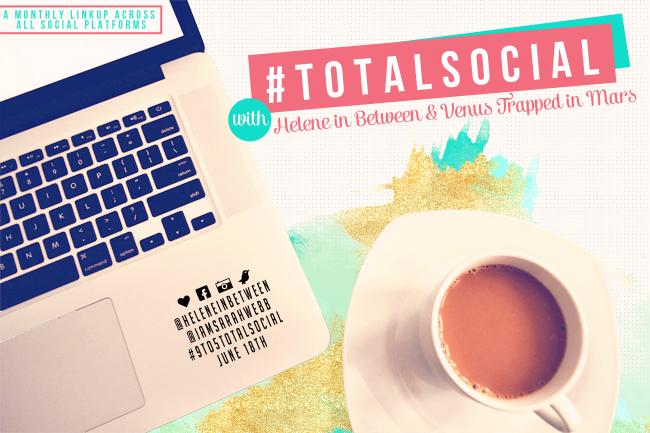 I am so glad Helene and Sarah picked a topic for the Total Social that's all about our jobs! I think it's fascinating to find out what we all do for a living!
My 9 to 5 is ALWAYS different, which is the number 1 reason why I LOVE my job.
I work for a Copywriting and Public Relations/Marketing Firm.
Some days, I am meeting with clients and brainstorming about rebranding, website content or social media. Other days, I am writing blogs for clients on a HUGE variety of different topics. We creative content for clients ranging from truck driving companies, mental health and behavioral health clinics to financial investment advisers, greeting card companies and mop buckets.
What other job lets you say mental health and mop buckets in the same sentence? That's right, mine does!
Also some days, I am lucky enough to call places like Starbucks and Panera Bread my office.
(That's an iced vanilla soy latte, if you're wondering.)
My typical Wednesdays look like this:
9:00 - 11:30 a.m.- Team meeting with my co-workers and boss, where we give updates on all of the clients we are working with, brainstorm ideas and make sure all of our to-do lists are up to date.
11:30-1:00- Answer emails, check off all of the tasks that were added to my list during the meeting, email clients, research connections for potential clients, meet my mom for lunch.
1:00-3:00 - Write blogs for various clients, create content for websites, blogs, newsletters or other various projects.
4:00 p.m. - Make phone calls to potential clients, set up meetings.
My company creates marketing plans, content and social media strategies for companies and non-profits in our area but some clients are all over the United States as well. You can check out our website here: Susan J. Campbell Copywriting Solutions . Follow us on social media too, because we are always sharing tips and strategies for optimizing customer engagement, SEO, and more marketing related information.
As with any marketing and p.r., my job also consists of a lot of networking, so I get the pleasure of attending many Chamber of Commerce events, Lunch And Learns, committee meetings and fundraising events. It's caused me to step out of my comfort level a lot and be confident enough to walk up to a complete stranger and shakes hands, but as soon as I do it and meet someone new, I am so glad I did!
To say I love my #9to5 would be an understatement!