There's a huge chance you know how to Go Shout Love already. And if you don't, there's an even bigger chance that you shout love everyday without even realizing that you are changing someone's life.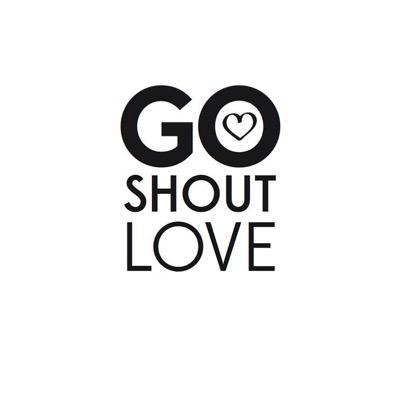 Here's how three amazing moms are "shouting love" each month (and every day) for special children in need. They not only show love and support for the child, but their families as well. We're talking literally shouting here people- These moms start shouting and then magically, hundreds of people take the lead to encourage, pray, boost, love and provide support - on top of thousands and thousands of dollars to aid in medical bills- for these families.
So let's get to know them a bit more, shall we?
Here's the ABCs of GSL:
A: A group of amazing founders: These compassionate friends always put others first and want to make a huge difference in the lives of others. That's where GSL started: this foundation of love and support from 3 moms: Kristin, Brittan & Jessica. (I'm not biased or anything but Jessica (far right) is one amazing sister on top of everything else!)
B: B stands for Buy- which is just one of the many, many, ways you can support GSL. First, you can go online and find one-of-a-kind t-shirts and apparel that are designed with the personality of each month's child in mind. A couple months ago, this little guy Jude was being showered with love by thousands, Reese and I included! (Reese is sporting the signature GSL knot headband, which I sometimes steal and wear for myself!)
For every shirt you buy, GSL is able to donate money back to the families. It's double the joy, double the support and double (triple, quadruple..you get the point!) the love!
B is also for "BUY" an Instagram Auction item, which you can do each month by following @goshoutloveauction on Instagram. Each month, TONS of amazing Etsy shops, designers, stores, artists and giving people donate items for the auction. We're talking the cutest kids' apparel, gourmet anything-you-can-dream-of and artsy things you won't find anywhere else.
C: See stands for Creation- GSL is the creation of all things amazing. It's a place online that cultivates positive support for families who need it the most. They create love, they create a will to share in every heart that is touched by Go Shout Love's mission. It's contagious, it's momentous and it's priceless.
If you want to know more, take a couple minutes to watch this video about how GSL got its wings. You can also follow along on their social media platforms:
Facebook
Instagram
Twitter
Now go out there and shout love, people!