Something about the holidays or just being THE MOST tired, or that our ever perky go getter Mallory went on vacation, but
#bragaboutit Mondays went on a short hiatus, but no worries, we're back!
Please grab the button code below to insert into your post, and then link up your post where you brag about something great you did!
Please be followers of the hosts, Jen, Jess, and Mallory and please interact with 1 or more of the bloggers that link up!
Not a problem! Comment on any of the hosts posts with your Brag so we can share for you!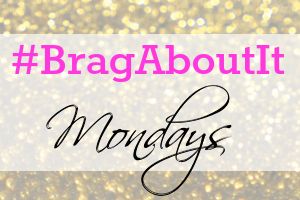 Today, I am bragging about my clean house that I kept up for 3 days.
3 days, people, is a long time!
The floor was void of any toys, which were all in their homes in the toy room and the kitchen counters were uncluttered. You could even see the vaccuum tracks in the carpet. #winning.
I wish I was born with that magical clean freak gene I have heard some people talk about, but I wasn't. But what is great about that is cleanliness is a treat that I get to enjoy and not just take for granted! LOL that's how I look at it, anyway.
Alas, it was short lived because we just got home from my mom's Christmas and dumped all of the presents, overnight bags, etc by the door and now that I am snuggled up on the couch and the kids are in bed, I just can't move. I swear, my legs are like, nope, not gonna do it, not gonna move!
So here I sit, with a messy living room, once again.
BUT I SWEAR it will be clean again but this this time Tuesday, because I have the day off work!
Maybe next week I'll have something a little better to brag about, but like I said, the holidays kicked my bum and all I want to do is cuddle deep into the cushions of my couch :)
Happy New Year's Eve!
Check back tomorrow, I have a plan to make a list of
13 things to do in 2013!!