There are alot of things that I love.
But there's some contenders for the top spots and Christmas is one of them. Mostly, it's the presents. I LOVE giving gifts. I also love making "If everyone had thousands of extra dollars laying around to spend on me" wish lists!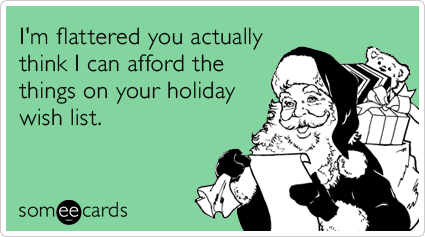 So, I present to you: the wishlists that make my tinseled heart go pitter patter:
Fossil Watch - A less expensive alternative to the MK one that makes my heart leap for joy but still just as beautiful!
Urban Decay Naked Palette 2 - Because it's time to graduate from the Walmart end isle clearance make up and on to something more sophisticated!
Erin Condren Life Planner- My life is about to get way more planner worthy. A new job with a schedule I am way more in control of, plus kids who are getting more involved in activities...someone has got to be on top of things around here and with EC, I can do it colorfully, plus it's got tons of room for doodles, which is pretty much the most important part of a planner.
Hunter Boots - Because I know Uggs are out of the picture. Living in a small town, I have been able to still get away with wearing them because no one will really know their out of style for a couple more years (ha! jk ko) but then I saw this one radical article about how sheep are treated for their wool and it gave me a stomach ache. I have no idea if it was legitimate enough but I didn't like it. PLUS these shoes are just IT.
Favorite Lyrics Pillow - This is just what needs to be on my couch now. I love the words, I love throw pillows and I just NEED it.
Booties - from Target- I just can't help that these would look adorable with tights and a cute shirt dress this winter. Actually I really have no idea what I am doing fashion wise but I would sure love wearing them and pretending I know what's going on.
Reese wants pretty much anything she sees on the commercials. And anything that has "ies" on the end of it. Stuffies, Squeakies, Stompies, etc. Why? I have no idea, but I think she just likes the catchy songs. I'm thinking there's a Disney Princess castle in her future. (Who are we kidding? I can't wait to play with it!) She also wants Santa to bring the Wolla Skate Dowa and Boots. Which Santa read online was going to be a hot item and hard to find this holiday season so she cleverly bought it already and it's hiding in her closet So he already told his Elves to take care of getting it for her.
R1... I am not sure. I have a dilemma. I always thought I would be against video games until he was much older. But now I am considering an Xbox. First and foremost, he's at the age where I want to start really teaching him about earning privileges and I think he would really like and respect having a video game to play. Plus it would be something I could take away when I needed to because of bad behavior that would actually affect him. It's either that or more Legos. Which I am already eyeballs deep in but we love them!
I know the two of them are going to get a couple board games together, we have Headbands for Kids and we love it! I was thinking maybe classics like Candyland and Trouble would be fun. I'll also carry on the tradition my mom always did for my sister and I and fill their stockings with underwear, socks, tooth paste and candy. Now that I type that out, it seems funny but it's a tradition!
Also I get to shop for a painfully cute niece this year.
If you had this cuteness in your life, would you not want to buy her all of the things!? I'm thinking rompers from Gap for sure!
So that's that friends. Today is the first day of my Thanksgiving Vacation, plus I am technically but unofficially unemployed right now. In between jobs is kind of crazy to think about but it's also down right exhilarating! I have the rest of the week to bum around, make pecan pies and spend with family. And I can't say I hate it!
Have a most enjoyable and lovely Tuesday!