Book Review: The Nightingale by Kristin Hannah
What do I love about a great book?
I love the simplicity of a story that passionately needs to be told.
I think that happens anytime someone tackles a fictional novel about World War II.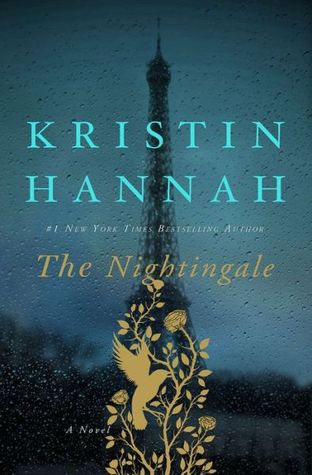 The Nightingale is a story about two sisters, Isabelle and Vianne, who are living in France in the late 1930s. Vianne, a mother and wife, quietly enjoys life in the French countryside with her husband and daughter. Her best friend Rachel is next door. They are charmed and happy. Isabelle is Vianne's spirited younger sister who has a history of getting expelled from various boarding schools. She's passionate, reckless and brave. With their mother gone and their father lost to alcoholism, the sisters have no family except for each other, but sadly, they are not close.
But that was before the war.
Vianne finds herself alone after her husband leaves to fight for France. Soon, there's a German soldier living with her who has
taken over her home and requiring her to cook for him. I learned a lot more about the war in this book. What I thought was interesting about Hannah's portrayal was that she created a German soldier that was a likable character.
Captain Beck comes in Vianne's house but isn't cruel to her. And we've all heard the horror stories of the German soldiers. But there's a companionship that forms between Vianne and Captian Beck that I wasn't expecting. It was the only saving grace about the war for Vianne. For a little while, anyway. Vianne learns how to survive the war, following the rules and keeping her daughter safe.
Isabelle, on the other hand, was a different story. She's too brave for her own good. She begins aiding American pilots escape the German soldiers and eventually becomes a force to be reckoned with. She was on the run constantly and was one of the most wanted people during the war on France. German soldiers knew there was someone instrumenting the escape of Americans but they couldn't find out who and they most certainly didn't suspect a 19 year old girl.
The story of Isabelle's bravery and what her sister must do to survive the war makes this book a page turner that I didn't expect. Normally, historic fiction about World War II makes me wary. Let's face it, they are terribly sad. (The most moving books I've read: Sarah's Key, Unbroken) But there is so much fight in this book. Vianne and Isabelle evolve into survivors with every chapter. They change the course of their lives, choosing to fight, refusing to succumb to the tragedy that was befalling their country.
I think the most amazing part of this story is the resilience of the characters. Despite the execution of their innocent neighbors, the seizing of their homes and the dangers ripping apart their villages, they still manage to protect their will to survive. Vianne has to make decisions that no woman should ever have to face. Isabelle takes risks that make no sense, until you come to understand her brave spirit and respect her drive to not let the war win.
Both women are able to hold on to a certain part of their hearts that allows them to go on after the war ends. The story begins and ends with one of the woman telling her story, looking back on it from 1996. I pictured Rose from the Titanic, telling Bill Paxton that she dropped the necklace into the ocean in the end.
It's the perfect way to begin such a saga and then end is beautiful tied together. It's increadible that two women could go through so much. Tragedy, torture, loss, and yet they still find the capacity to not only love, but to continue to sacrifice for the people they love the most.
Read it. Read it because it's about the type of history we need to know about. Read it because it's about family and love and bravery. You won't be disappointed.