What She's Reading Now
What do you get when you combine a night filled with laughter, wine, and your two best friends?
Apparently a wine hangover, spending a lot of money at Hobby Lobby, and being a slug on the couch.
But really, is there any thing better than a great dinner with two friends who have known you longer than any other friends you've ever had?
There wasn't a topic we didn't cover, a memory we didn't relive and a bottle of wine we didn't drink.
This evening was spent catching up on what I missed from being away over night from the kids. You, know, the usual: boxed mac and cheese, Nerf gun fights and coloring.
I thought I would catch up reporting what books I am reading, since I just started them both this weekend. I am reading In The Woods by Tana French. It's been a while since I have read a mystery/thriller so I am ready to dive into to this interesting story! After I finish this book, I will move on to The American Heiress by Daisy Goodwin.
Description from Goodreads.com:

As dusk approaches a small Dublin suburb in the summer of 1984, mothers begin to call their children home. But on this warm evening, three children do not return from the dark and silent woods. When the police arrive, they find only one of the children gripping a tree trunk in terror, wearing blood-filled sneakers, and unable to recall a single detail of the previous hours.
Twenty years later, the found boy, Rob Ryan, is a detective on the Dublin Murder Squad and keeps his past a secret. But when a twelve-year-old girl is found murdered in the same woods, he and Detective Cassie Maddox—his partner and closest friend—find themselves investigating a case chillingly similar to the previous unsolved mystery. Now, with only snippets of long-buried memories to guide him, Ryan has the chance to uncover both the mystery of the case before him and that of his own shadowy past.
And I am listening to this in the car while driving to work. I bet there aren't alot of romance novel lovers out there who don't love Adriana Trigiani. Her words are so so vivid and I get so lost inside her stories. I can't wait to do the same with this book!
From Goodreads.com: The majestic and haunting beauty of the Italian Alps is the setting of the first meeting of Enza, a practical beauty, and Ciro, a strapping mountain boy, who meet as teenagers, despite growing up in villages just a few miles apart. At the turn of the last century, when Ciro catches the local priest in a scandal, he is banished from his village and sent to hide in America as an apprentice to a shoemaker in Little Italy. Without explanation, he leaves a bereft Enza behind. Soon, Enza's family faces disaster and she, too, is forced to go to America with her father to secure their future.
This riveting historical epic of love and family, war and loss, risk and destiny is the novel Adriana Trigiani was born to write, one inspired by her own family history and the love of tradition that has propelled her body of bestselling novels to international acclaim. Like Lucia, Lucia, The Shoemaker's Wife defines an era with clarity and splendor, with operatic scope and a vivid cast of characters who will live on in the imaginations of readers for years to come.
This week will be fun! I'll have a Literary Junkies link up for you on Tuesday and then later this week I will be posting some pictures of the new gallery wall decor I put up and I can't wait to show off my bedside table lamp that I redid! That being said, yes, I just bragged about my home decor projects. BOOM.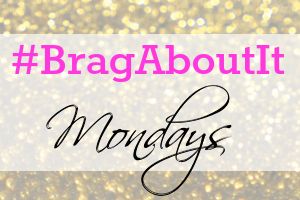 Jess at
Tooth N Nails,
and Mallory at From California To Kansas and I will be tweeting our Brag About It Posts and you can too! Join us and stop being so damn polite and BRAG about yo' selves!