Have you ever met a book you just wanted to hug?
If you just nodded, we are soul mates. Because it does really happen.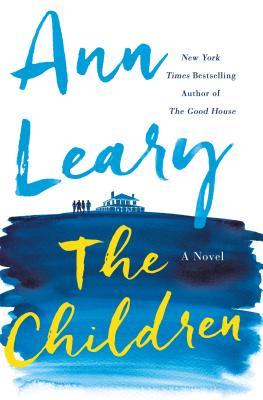 That is if you find yourself with a friend who is recluse lies about her life on a made up "mommy blog" sleeps with the groundskeeper and lives in her deceased step father's dilapidated house on the lake.
Because you know, that happens a lot too. I just couldn't get enough and when the book ended, I instantly missed Charlotte.

A story about an unconventional family with secrets and worries is my jam. I just loved all of the characters. Leary writes in a way that makes me feel like I've met new friends but also doesn't give it all away at the beginning. There is so much to absorb that you have to keep reading.
Charlotte, her sister and mother all live in a rambling old house that once belonged to Charlotte's stepdad, who passed away. The house is wrapped up between Joan, his widow, and his 2 biological sons, Perry and Spin. The brothers don't need the house...but Joan's daughters, Charlotte and Sally, need it in a way that no one can quite grasp. They both struggle with pasts and fears that make it impossible to function in the real world. Sally and Charlotte are two of my favorite characters I have read about this year. Their struggles and inner demons are real and I felt myself nodding along because I recognize a lot of the same anxieties in myself.
Charlotte's romance with groundskeeper Everette is intriguing... and I love how they navigate their strange relationship.
When Spin brings his new fiancee to the house, there are many opinions among the family about her intentions. Some are nice...and some are far from it. Who's right? Will Laurel destroy the complicated yet complacent life Charlotte and her family have built?
The backstories and honest observations from Charlotte create a great piece that you will want to keep reading.
Next up, I am listening to The Edge of the Orchard, by Terry Chevalier, a historical fiction piece about a pioneer family in the mid 1800s, navigating their life on unknown territory.
I'm also currently reading Truly, Madly, Guilty at all hours of the night because insomnia. And though it's got my attention so far, it's not has "Oh my gosh, I can't put this down" as Big Little Lies and The Husband's Secret but I am not giving up too soon. Also, how cute is this bookstragram?
My local Hastings is going out of business so I picked up a nice little bookstack the other day:
My life: So many books, so little couch time. Have you read any of my July/Aug reads?
Happy Happy Reading, friends!